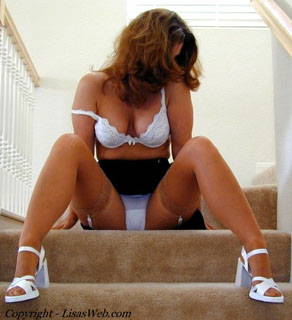 My name is Lisa Tanner and even though I was born in the Midwest I am a Northern California girl now.
I am Director of Public Relations for a software firm in the San Francisco area.
I am 5'-7" tall. My measurements are 37 - 27 - 37, my bra size is a 36C, and my shoe size is a 7-1/2 medium.
I love the beach, hikes, baseball, football, and almost any kind of music and movies (adult included).
I get very excited about dressing in sexy lingerie and dresses and carefully offering revealing but innocent peeks at normally "forbidden treasures".
I fantasize about preparing a photoset for LisasWeb and through an Internet miracle being able to instantly see all of my visitors and members enjoying my work.
I love men (especially my husband) but also enjoy the beauty and feel of the female figure.
I love cats, a good martini, an occasional cigar, and wet kisses in soft places - not necessarily in that order.